What is Project
Look Sharp?
Project Look Sharp is a media literacy initiative of Ithaca College that develops and provides lesson plans, media materials, training, and support for the effective integration of media literacy with critical thinking into classroom curricula at all education levels, including integration with the new common core standards.

News Accuracy Resources
Click here for resources that can help you lead students in a thoughtful analysis of how to question news reports for accuracy, credibility and sourcing.
Curriculum Kits and Lesson Plans for Educators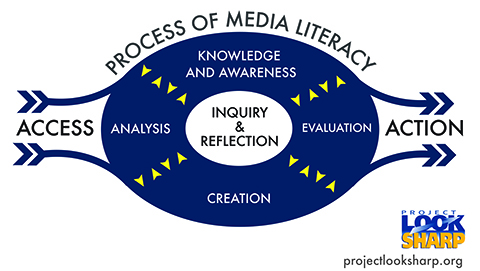 Visit our store at cafepress.com to order posters, prints, and other products featuring this graphic
At the first seminal meeting to discuss media literacy education in the U.S. (Aspen Institute, 1992), media literacy was defined as "the ability to access, analyze, evaluate, and produce communication in a variety of media forms". That definition was used by the growing field for more than 20 years (and in fact, some people still define media literacy that way). However, some media literacy experts began to develop alternative definitions that included awareness, reflection, taking action, and other components. In our book,
The Teacher's Guide to Media Literacy: Critical Thinking in a Multimedia World
(Sage/Corwin, 2012), Faith Rogow and I identified 8 capabilities as part of media literacy (access, understanding, awareness, analysis, evaluation, creation, reflection, participation) plus the desire to develop these skills and to take action based on them. While that felt thorough at the time, the list was really too unwieldy to describe easily, it left out "inquiry" which is seminal to the Project Look Sharp approach, and it didn't place the capabilities in a progression. I saw as the key elements (inquiry and reflection) involved in all aspects of media literacy, and viewing "access" as the prerequisite and "action" as the outcome, I sketched out the process graphic shown above and the official graphic was created by Eric Poandl.
- Cyndy Scheibe, Executive Director of Project Look Sharp