Why We Need to Think Critically about the Facts – and the Factcheckers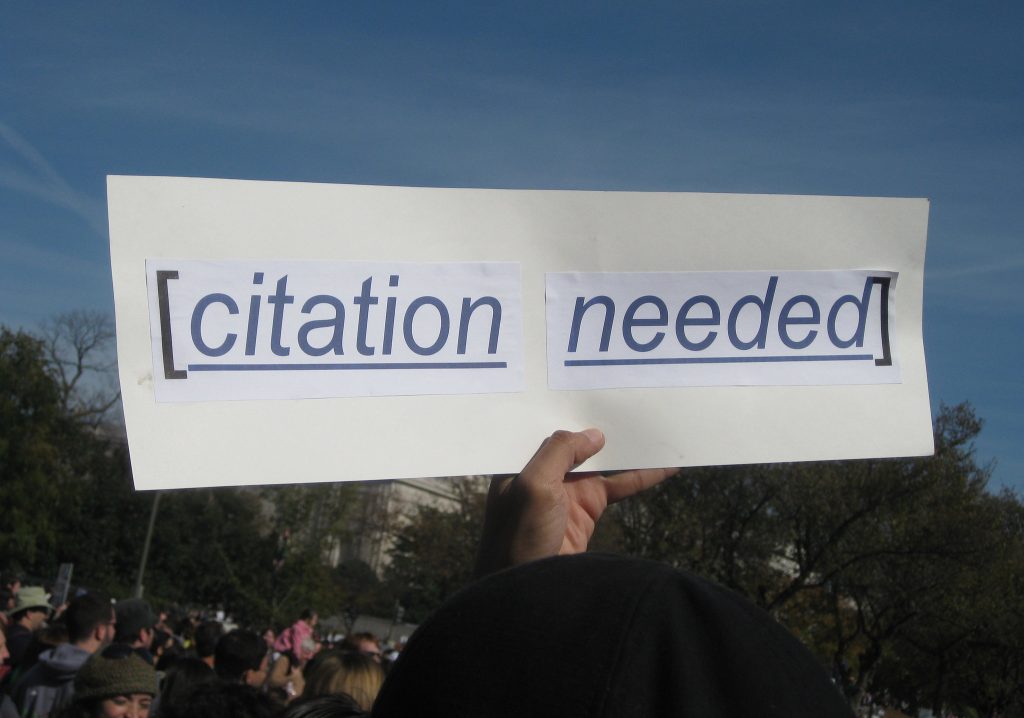 When the U.S. went to war against Iraq in March 2003, my college students were jittery. In one of my psychology classes, a troubled student raised her hand and said, "I don't understand what's going on. Can you just tell me the one place to go to get the simple facts?" As much as I wanted to comfort and reassure her, my answer was loud and clear. "First, you should never get your information from only one source – and the facts are complicated, so we can't be looking for simple answers."
Facts matter. But in today's complex and heavily mediated world – with claims of "fake news" and media manipulation – knowing which sources and "facts" to trust and which to discount has become an increasingly daunting task. At Project Look Sharp we consider critical thinking to be at the heart of our constructivist media decoding (CMD) approach to media literacy. But while nearly every student has been told to engage in critical thinking, we seldom explain what that actually means.
In our book The Teacher's Guide to Media Literacy: Critical Thinking in a Multimedia World, media literacy expert Faith Rogow and I defined critical thinking to include these components:
Being curious – asking questions about the information we see, read and hear
Being inherently skeptical – not automatically believing claims just because they come from a particular source
Valuing logical reasoning – evidence has to matter
Being open-minded – being willing to change your mind in light of new evidence
One of the key sources we referenced in our book was Asking the Right Questions: A Guide to Critical Thinking by Neil Browne and Stuart Keeley, who described the values of a critical thinker: they have humility (they know they don't know everything) but they also have autonomy (they can come to their own conclusions, and don't look to others to do the work for them).
That's why the increasing reliance on factcheckers is a bit thorny. While factchecking sites like Factcheck.org and PolitiFact may serve an important role in identifying possible problems with a particular media story, it's still important to do your own investigation to corroborate those conclusions. That's even more important with factchecking sites like Newsguard that rate entire sources (rather than individual stories) as to whether they are trustworthy or not. Ceding that role of evaluation to a single source may be problematic, particularly if you don't take the time to find out about the factchecker site itself (who is behind it, how they make their decisions, how their ratings compare to assessments made by other factchecker sites, etc.). That's why Project Look Sharp has just added a new media literacy lesson on this topic – Factcheckers: How Do They Decide? – which is highlighted in an article written by Chris Sperry and Sox Sperry in January/February 2020 issue of the NCSS journal Social Education, "Checking the Facts: Media Literacy and Democracy" which can be downloaded from our website.
One of the factchecking sites included in that lesson is the urban legends site snopes.com – which I use regularly myself and incorporate into my media literacy course at Ithaca College as part of our new interdisciplinary media literacy minor. In 2007, the National Association for Media Literacy Education gave the creators of snopes.com an award for outstanding application of media literacy, because they understood the importance of encouraging their users to question ALL sources – including their own site. Their "Lost Legends" section included remarkable stories like Mister Ed was really a zebra and The state of Mississippi did away with teaching fractions and decimals in school, which were designated as TRUE. But a careful reader will take the time to click on link at the bottom of each story marked "Additional Information" – which explains why you need to be wary of False Authority Syndrome ("common sense dictates that you should never fully rely upon someone else [even us] to do fact checking for you"). Brilliant. And no, Mister Ed wasn't a zebra.
Over the past several years, Project Look Sharp has developed a host of other media literacy lessons around media bias and credibility, especially focused on social media. Those lessons include "Twitter and Lies: How They Snowball" and "How False Statistics Spread in a Digital World." We also have lessons on bias and manipulation in some of curriculum kits, including "Discourse or Disinformation" in our Media Constructions of Global Warming kit, and several lessons on media bias in presidential election campaigns.
For school districts and other organizations looking for professional development around this issues, we offer a full-day workshop called "Truth, Lies and Metacognition: Integrating News Literacy into the Curriculum." You can also explore our huge archive of free lessons, media examples, curriculum kits, and handouts – all grant-funded which allows us to make them available at no charge for educators. Most lessons are tied to Common Core, C3 and other standards, and you can easily search for resources to find lessons that fit your curriculum. And as always, let us know what you think!
Cyndy Scheibe, Founder and Executive Director