New Report from Democracy Ready NY Promoting Media Literacy Education in NY State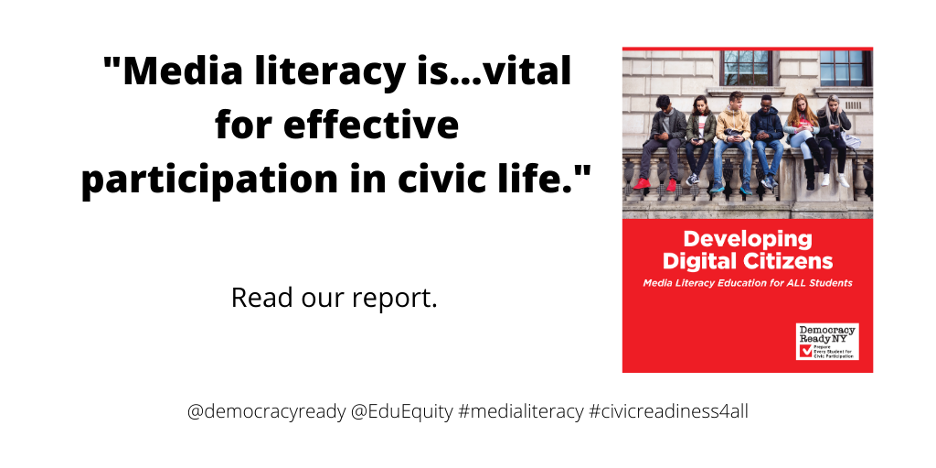 We wanted to share some exciting news about the release of a vital new report from Democracy Ready NY entitled "Developing Digital Citizens: Media Literacy Education for All Students." The report represents the strongest advocacy for media literacy in New York State to date. The report asserts that New York has been remiss in failing to equip schools to help students meet existing media literacy education standards, and that "to be democracy ready, all students must be media literate." It is worth noting that Project Look Sharp is mentioned 5 times throughout the report, especially as a resource for curriculum materials and also as a potential PD provider for media literacy training.
The report recommends that:
All schools be staffed with school library media specialists, whose licensing requires extensive media literacy training.
All districts be required to provide access to professional development for teachers around media literacy.
The New York Board of Regents consider adding a dedicated one-semester course in media literacy for all ninth graders as part of its review of graduation requirements.
The state education department conduct a detailed survey to learn the current state of media literacy education and media literacy education resources in all schools.
The full report can be found at http://www.democracyreadyny.org/Developing-Digital-Citizens.pdf. Please read and pass the report along to fellow educators and school administrators. We also urge you to tell your NY legislators to protect education funding and prioritize media literacy.